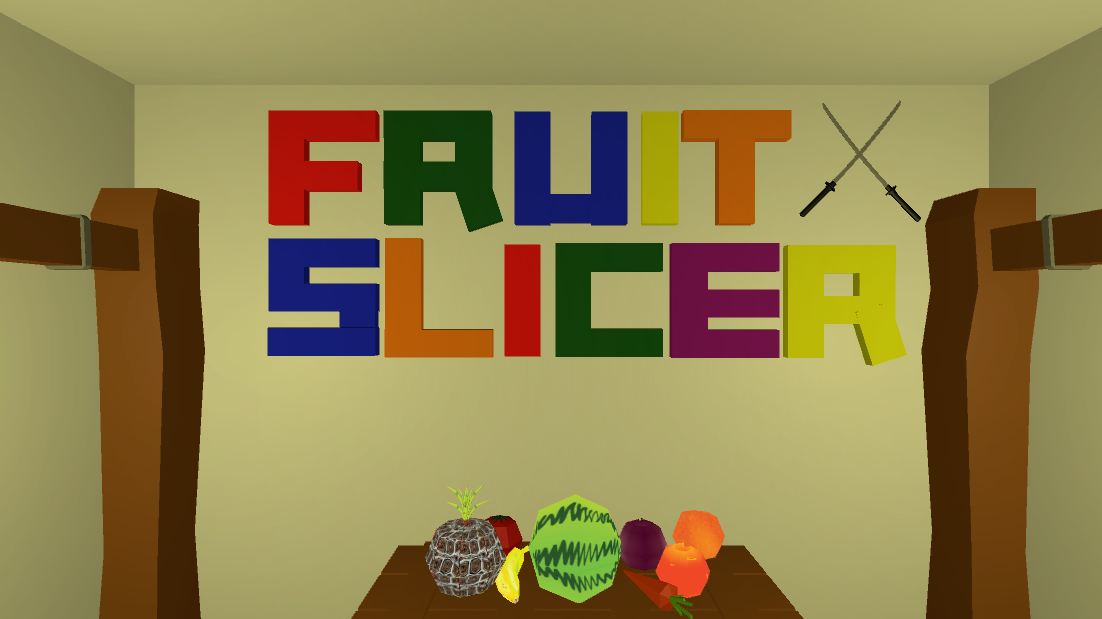 Fruit Slicer (HTC Vive)
A downloadable game for Windows
**Note a HTC Vive is required with a recommend play space of 2m x 1.5m**
Fruit Slicer (One of my first projects using Unity) is a little project I worked on during my winter break from University for the HTC Vive using the Unity Game Engine and is heavily inspired by Fruit Ninja and Zen blade, following similar principles as the aforementioned titles. You are equipped with two swords or one if you want to turn of one of your controllers and the goal is to slice as many fruits as you can while dodging the boulders and not letting unsliced fruit hit the ground. Still much more that I want to do here and experiment with so I hope to update the project whenever I am not completely bogged down by uni work.
Also don't expect anything amazing from this title. It is very rough around the edges and all in between haha. (Please read the About me/project section located closer to the bottom of this description for a little more info surrounding the development).
Current features:
2 Gamemodes (Standard and 4 cannon barrage)
4 levels (2 standard and 2 4 cannon barrage) + the menu scene
Just a little note here in terms of the levels and gamemodes; My goal is to build 10 levels and 5 gamemodes; Each gamemode will have two levels/scenes
Variety of fruit; apples, plums, watermelons, coconuts, carrots, tomatoes, pineapples and oranges
Saves local Highscores
Level sculptures in the menu scene
Haptic feedback upon hitting the fruit using the Vive controllers.
Here is a list of some things I would still like to do:
More scenes exploring unique game modes
Main Menu scene expansion and possible redesign
Teleportation in the menu. With a larger menu scene to allow for the newer levels to be displayed and reached by the player.
Particle effects when the cannon launches the fruit
Particle effects when slicing fruit; Have implemented this in a newer build however could still be improved upon since this is my first time using the Unity particle system.
Expand on the High scoring system; store Top 5 highscores as well as allow for name entries after the highscore was achieved
Allowing the player to changed the blade trail colour using the touch pad on the Vive controllers
Plus more...
About me/project:
I thought that I would just mention that I am a 3rd year software engineering student with a passion for game development. This is simply a project that I have been working on in my free time and had a couple of friends play it and enjoyed it so I thought I would share it. I am very new to the Unity game engine as well as to the process of developing games. Everyone has to start somewhere in life and I thought this may be that time for me to start. If you enjoy the title please let me know as well as anything you would like to see moving forward and any constructive criticism is welcomed.
Upcoming update: Pre-Alpha 2 (Will get updated as progress is made):
New Game mode utilizing a flying mechanic + the first of the two accompanying levels
New preview video showcasing the new parts
Current Version and release notes:
Version: Pre-Alpha 1
Initial launch.
You can check out a video here:
Known Issues/Notes:
Below issues apply to Version: Pre-Alpha 1
Volume inconsistencies (Particularly background music) -> due to some levels not being converted to 3D audio yet as well as not having undergone normalisation of audio sources.
Sometimes when hitting a fruit the fruit doesn't get split into two however the particle effects still play and the fruit still gets counted as being sliced.
Shoutout:
If you are interested in developing your own VR titles I can most definitely recommend that you should got check out fuseman's youtube channel at the link: https://www.youtube.com/channel/UCLO98KHpNx6JwsdnH...
Download
Click download now to get access to the following files: